Investment projects with scope: East district
Total budget

€10,000,000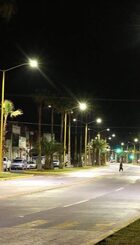 2023-12-11 • No comments • Crystal Herrera • East district
Continue to change the lighting of the city, not only the low streetlights that have been changed recently, but also the higher streetlights, all the lighting of tunnels and roads and the lighting of public buildings, thus promoting greater savings that impact on energy expenditure (this money can be used for other initiatives) and simultaneously promoting a reduction in pollution that such energy savings entails. Part of the money can also be used to carry out a campaign to encourage the same change in private homes, providing incentives such as discounts on the purchase of such lighting systems.
At the same time, we could think of models of street lamps with solar panels in the same style as parking meters or some traffic signs, so that the savings would be greater or the energy generated could be sold to the electricity grid.
It is necessary to think about saving expenses as well as it has been carried out, in this way greater budgetary items can be destined for things that are worthwhile to the citizens.
2023-12-11 • No comments • Scott Boyd • East district
The residents of the square want a reform of the square that makes it greener more colorful and more of all neighbors eradicating bad habits there. we also want the square to be more sustainable even placing triangular sails that provide shade in summer and water mist to cool the area. we also want more trees and cultural alternatives such as theater and puppets some solidarity market and even the possibility of giving a concert with unidirectional speakers. We are open to any suggestion or idea from any of the neighbors of the district.
2023-12-11 • No comments • Scott Boyd • East district
The proposal is aimed at equipping several public schools in the District with instruments and other equipment related to musical teaching and practice, with the aim of holding music classes organised outside school hours, as well as rehearsals by the Orquesta-Escuela del Barrio for children and adults, within the framework of the project being carried out by the Association made up of different citizen groups (musical and educational associations).