Investment projects with scope: West district
Total budget

€10,000,000
2023-12-11 • No comments • Scott Boyd • West district
A public playroom is needed for children and babies in the District so that they can play days of rain, cold, or very hot. Currently, the only options are private, scarce and expensive. In addition, there are almost no public (or private) spaces appropriate for babies in their first year of life to develop their motor skills.
It is proposed to create a comfortable, warm, inclusive and accessible space, where we can spend time with our children and share with other families. A public space could be set up to become a playroom with a wide access timetable. In its interior and exterior zones, children will be able to socialize, play and participate in activities, babies will be able to move freely in a safe place; and their mothers and fathers will have zones to exchange experiences, form themselves, organize workshops, weave networks and propose cultural activities for girls and boys.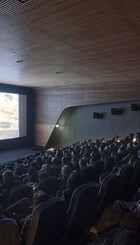 2023-12-11 • No comments • Crystal Herrera • West district
La Nave is the result of the rehabilitation of a part of the old and abandoned barracks, which was saved from real estate speculation thanks to the struggle of the neighbors of the neighborhood to maintain it for equipping the neighborhood.
It is a cultural macrospace that has two theater rooms, several multipurpose rooms, common areas and warehouses. The previous government left it in absolute disuse and even today, the programming that is carried out is far below the occupation that can accommodate this large space.
Our proposal consists in the creation of a cinema library, an audiovisual room for alternative, independent and non-fiction cinema programming that would be located in a room on the lower floor of the Nave Teatro.
It is a project that does not require a great investment but that would give cultural life to a neighbourhood that, like almost all of them, has lost all its cinemas, as well as offering all the people of Madrid the possibility of enriching our social and cultural life.
Thank you for supporting our proposal.
2023-12-11 • No comments • Johnny Ortiz • West district
The object of this proposal is to pedestrianize those streets of the district whose narrow sidewalks are in practice impracticable. In particular, the proposal refers to streets with sidewalks of 1m or less in width.
Among other problems, neighbors and pedestrians are forced to share the roadway with vehicles and sidewalks are inaccessible to people with disabilities. Coexistence is sometimes made even more difficult by the fact that these streets (often separated from the main roads) are used for loading and unloading illegally and outside the areas set aside for this purpose.